We are your choice for home pest control OKC.  If your home has a pest problem, we can help!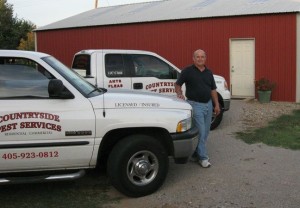 We have been in business since 1978, protecting countless homes from bugs and other pests that annoy and harass residents in Oklahoma City and the surrounding area.  We are experienced exterminators that know how to get the job done right.
Bugs love to hide in your walls, attic, basement, and garden.  They're all around and inside your house – all the time.  We can push back the pests to give your house and family some breathing room – keeping the bugs at bay.
We can protect your home from pests with a one-time treatment or we can keep them away with continuous treatment just a few times a year.  Our chemicals are environmentally-friendly (except to pests) and completely safe for your family and pets and are certified to use from the EPA.  We are also licensed and insured, so you have nothing to worry about.
Don't put up with living with spiders, termites, ants, fleas, ticks, cockroaches, rodents, wasps, or any other pest.  Let us take care of them so you can live pest-free and carefree!
Give a call Byron at 405-923-0812 to make all of your pest problems disappear today!
Our service area around Oklahoma City includes: Nichols Hills, Edmond, Guthrie, Jones, Chandler, Choctaw, Harrah, Nicoma Park, Spencer, and Meeker, Del City, Midwest City, Shawnee, Bethel Acres, Tecumseh, McLoud, and Pink, Valley Brook, Moore, Norman, Noble, Purcell, Lexington, Slaughterville, Goldsby, Washington, Newcastle, Tuttle, Blanchard, Bridge Creek, Chickasha, Bethany, Woodlawn Park, Warr Acres, Mustang, Yukon, and El Reno.